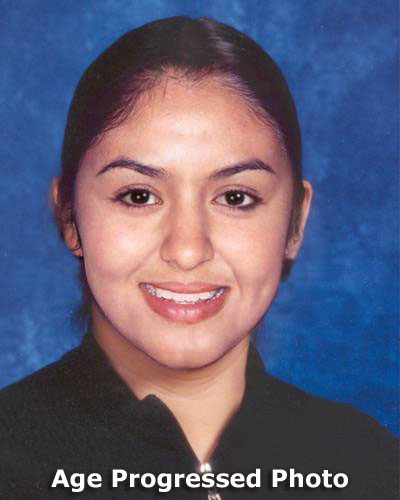 Age: 21


Missing Since:

October 2, 2003


Missing From:

Balmorhea, TX


Birth Date:

December 13, 1986


Sex:

Female


Height:

5 ft. 5 in.


Weight:

111 lbs.


Eye Color:

Brown


Race:

Caucasian / Hispanic


Complexion:

Medium


Hair Color:

Black, perhaps with red streaks



Monica was last seen

wearing a white night gown, no shoes and she was carrying a large bible. Monica was under doctor's care and on a strict diet. She was on medication, but does not have it with her.

Anyone having information should contact:
National Center for Missing and Exploited Children
1-800-843-5678

or

The Reeves County Sheriff's Office in Texas
1-432-445-4901






10.02.03

- Katherine Carrasco of Alpine remembers the last conversation she had with her daughter, Monica, who has been missing since Oct. 2, 2003. At Monica's uncle's place of business, Monica joined hands with her mother and her aunt, and they formed a circle. "I told her I loved her," katherine recalls, "and she said she loved me. Then we prayed." The next day, Monica disappeared. Her room was undisturbed, except for a missing Bible. no sign of missing clothes, shoes or bags. No sign of a forced entry.